FORGE BY NANETTE RASBAND
Swim. Bike. Run. That's the order of things. "Why not run first and get it over with before the heat of the day?" you might ask. The fact is, they put you in the water when you're fresh, hoping you'll still have enough energy and presence of mind to make it back to shore. Not everyone does. Then dripping wet you're supposed to get on your bike without crashing into everyone else or an oncoming car. I guess they figure you're only a danger to yourself once running.
The year my daughter did her first sprint triathlon I watched from behind the course ropes as contestants left from and returned to the bike transition area. Crazy was in the air. Dripping athletes ran up the hill to the bike staging area, jumped onto their bikes, missed their pedals and fell over into other cyclists. As returning veteran athletes of longer distances adeptly dismounted, they'd get bumped and jostled by frantic self-absorbed sprint-distance novices trying to get their shoes clipped in or gears shifted to power up the hill for the start of their ride. Again and again, the athletes collided or fell over independently. The scene should have been in black and white with comedic music while Laurel and Hardy directed. Race volunteers responsible for keeping order wore yellow shirts and bewildered expressions. I encouraged them to be more assertive in their race management but they were too young, passive and inexperienced to be effective. I shouted, "Be careful! Stop! Incoming cyclist!" and waved my arms wildly, pointing and motioning. I could barely refrain from jumping the ropes and marshalling the area myself.
I watched a strong woman with an obviously impressive time sail into the chute, returning from her long ride. As she gracefully alighted, swinging one foot over her bike with the other on the ground, it was swept out from under her by an oblivious rider as he, too, was swinging his foot up and over his bike, about to leave on his short ride. She landed on her tailbone with shattering force. We moaned. We had seen it coming. But her beautiful swim and ride held no foreshadowing of her destiny. She struggled to move out of the fray, was soon helped off the course by family, and quit the race with tears of pain and disappointment. As we watched this tragedy play out, the offending rider sallied forth, ignorant of the fiasco he had caused. Surely he was propelled by visions of podium and medal, as we would expect and hope for every athlete. I breathed again only after my own daughter was safely running.
Last year I did the Olympic Pumpkinman Relay triathlon with this same daughter and my dad. Kayla swam, I biked and Dad ran. It was a family affair with three generations racing or cheering. We called our team KNN3GEN, standing for Kayla, Nanette, Neil 3 Generations. Clearly we put our energy into team training instead of naming it. Pumpkinman is a great name for an athletic event. It's considered one of the toughest triathlons in the country because of the bike climb. The first time I saw its finisher's medal, I was hooked. "I have to do that race!" I thought, just for that heavy metal orange and black jack-o-lantern with a wicked grin.
I was stoked to tag-team Kayla at the beach after her almost-two-mile swim, ride the 24.8 mile course up 3,887 feet to Boulder City where I'd pass on our timing chip to Dad for him to transport the six miles to the finish line where we'd high-five, don medals and receive kudos from our cheerleader spouses and children. I had ridden the course often; it's practically in my backyard. Kayla is a strong swimmer, having competed in high school and previous triathlons. Dad is a veteran runner at 75 years old with a lifetime running regimen and two marathons under his belt. It would be a cinch.
When it was my turn, I took off with heart-attack-inducing speed, and was almost immediately jarred by the sight of oncoming cyclists passing on the other side of the road, beginning their climb up the hill. I knew they had just swum twice as far as Kayla, competing in the Half category, and were biking twice as far as I was! Brain warp set in. I was already winded and now completely deflated by knowing how much more they were putting out than I was. I should be flying! What was my excuse? Where was my mustard? I couldn't get my brain around it. Before I knew it, I had already lost the race. Guilt flooded me. I was letting both Kayla and Dad down. "Focus! Get it together, Hilton!" I yelled in my head. I rode up that dam hill with steeled determination—I'm not cursing here. The hill climbs from Lake Mead lying at 1,112' elevation, which is framed by the Depression-era Hoover Dam, and plateaus six miles south in historic Boulder City at 2,507' above sea level—so we call it the dam hill with its double entendre.
Boulder City is intrepid. It was created, managed and peopled by those who built Hoover Dam – dauntless individuals who overcame anything and everything to harness the great Colorado River. They were ruthless, innovative and industrious beyond most imaginations.
Hoover Dam is deemed a Wonder of the World. It was built in 1931, before modern construction resources, equipment and techniques. The contract was awarded just as the full impact of the 1929 stock market crash began to take effect. Unemployed men, desperate for work, brought their families to "Ragtown," on the outskirts of Las Vegas, hoping to get hired. Those who were hired faced miserable working conditions. During July the average low temperature was 95 degrees, and in the bypass tunnels temperatures of 140 degrees were not uncommon.
The federal government financed Boulder City to house dam workers so they didn't have so far to travel and conditions for families would be more livable—also to corral the workers from the temptations and corruption of nearby Sin City, a.k.a. Las Vegas. The city was run with fascistic control by manager Sims Ely, who had been hired by the Bureau of Reclamation to make sure nothing happened that would embarrass the administration. Ely had total control over the police and all government actions, including judicial functions. But despite Ely's best efforts, Bootleg Canyon stands witness to his inability to stop the making and selling of whisky on the outskirts of his town. Its hills and caves (today a mountain biker's playground) proved too difficult to police. But he did make the penalties for drunkenness a huge deterrent to drinking. Anyone caught intoxicated was immediately fired. To reinforce his edicts, he periodically issued press releases reminding the workers of the Depression and the difficulty of finding new employment. Complaining was held to a minimum: the job applicant list held more than 22,000 names. Ely was the man of the hour who answered the call of his country. I marvel at his handiwork whenever I'm in Boulder City. But, really, I wouldn't want to live under Ely's eye.
Shortly after dam completion the American Association of State Highway Officials authorized a southward extension of U.S. Highway Route 93 from its previous southern terminus in Glendale, Nevada to Kingman, Arizona by way of Las Vegas and Boulder City, crossing the Colorado River on the newly constructed Hoover Dam (also known then as Boulder Dam). There were dreams of building a real bridge over the chasm so the dam didn't continue to be the sight of traffic jams for holiday travelers between the two states. Today more than 17,000 vehicles a day travel over the Depression-era Hoover Dam's two-lane roadway with traffic volume expected to increase 50% over the next 20 years. In addition to traffic safety, officials were also concerned about the safety and security of Hoover Dam, specifically the impact an accident could have on the dam's operation and the waters of Lake Mead.
Officials first discussed the need for a new Colorado River crossing that would bypass the dam in the 1960s. The U.S. Bureau of Reclamation, which operates the dam, began work on the "Colorado River Bridge Project" in 1989, but the project was put on hold in 1995. In 1997 the Federal Highway Administration took over the project and released a draft environmental impact statement in 1998. From 1998–2001 state officials from Arizona and Nevada as well as several federal government agencies studied the feasibility of several alternative routes and river crossings, as well as the feasibility of modifying the roadway over the dam, restricting traffic over the dam, or doing nothing. Free enterprise built the dam in five years, two years ahead of schedule.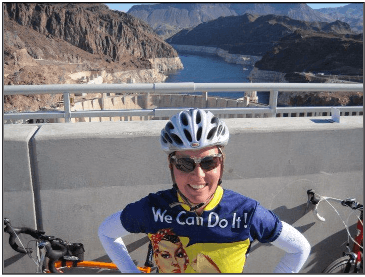 In March 2001 the Federal Highway Administration issued a Record of Decision indicating its selection of the "Sugarloaf Mountain Alternative" routing. To make another long story shorter, construction for the bridge spanning the Colorado River began 1,500 feet downstream from Hoover Dam in 2001 and opened nine years later in November of 2010. I rode my bike across it the September before it opened to traffic in the epic sold-out Viva Las Vegas Century Bike Ride. Even my brother couldn't get a ticket to ride with me, but 2,000 other people did. The bridge is North America's longest, the Western Hemisphere's widest and the World's highest concrete arch bridge. So it doesn't surprise me that the same earth is used today to challenge athletes to prove what they're made of—many aspiring to be knighted iron men. Those who built Hoover Dam and Boulder City were indeed men and women of iron, uncontested– having built with their own hands monuments to their name. "They died to make the desert bloom" is inscribed on the memorial to those 100 who lost their lives in the building of Hoover Dam.
Wondering what we're made of these days, it appears that triathlons are the new measure. Status comes with being an athletic triple threat. So in wanting to be up-to-date, I decided to be a fashion fool and put the 'try' in triathlete. I was counting on my borrowed wetsuit to stay afloat. With this safety-net in mind I signed-up to compete in the Pumpkinman Triathlon Sprint—the same event in which I had relayed with my kinfolk the year previous. I couldn't swim fifty yards when I registered. But the question begged: What am I made of?
My husband coached me through a month of pool practice and a couple of open-water swims to the point I dared pursue the goal—having already registered made the impending deadline my best motivator. Say you'll do something out loud to a crowded room and you're likely to bust all Hell to do it. I had set myself up for either success or death. I was up to three miles running, even if with both knees braced—it felt so unnatural and like I was likely to break something. The bike was my security blanket.
The day came and I found myself in the choppy water with too many other people, myself not having a clue where to go or how, exactly, to do it. A friend and pro in the men's Olympic wave behind me gave me some last minute tips to look for the red inflated triangle buoys and swim to and around them. I needed his signpost. The gun shot off and so did I— very slowly. Why put my face in the water when I couldn't see anything and couldn't breathe? Dog paddling was efficient enough until the majority of participants distanced themselves from me. Open water offers no reassurance whatsoever, I can attest! I couldn't get my breath. I was near hyperventilating, afraid that I would literally be swam over by the Olympic men quickly closing in on me. I well-remembered the nasty scene at the bike chute when Kayla was doing her first triathlon. As the men swarmed around me I looked like an otter on my back. I sighted the nearest kayak, thinking I'd swim to it, rest and get my bearings before paddling on—race rules allowed that. But there were too many bodies between me and it so I just flailed around for a minute, was asked if I was o.k., said I was, even though I wasn't and then rallied my senses and swam on. I was about half way. Once the men passed my anxiety did, too. I pointed myself toward shore and didn't stop a semblance of swimming until my feet touched ground. I exited the water with a silly grin glad to be alive—I felt it a great accomplishment worth celebrating. I was the 2nd to last woman out of the water from my group. No one knew how much steeling it took for me to do what I had just done—iron indeed!
I was thrilled to be on my bike,—pedaling up the dam hill with not a care in mind. I was that dripping cyclist who had done the swim and now the bike and next the run. I was the athlete I had seen doing IT ALL in my relay experience—the person who had rocked my mental boat, making me feel inadequate and guilty—I was that person—no more guilt or envy for I had given it my ALL and I was just incredibly satisfied. Then I heard the emergency sirens far below and prayed for whoever needed it.
I finished the race with a smile, mastering my mind and body throughout. I was now a triathlete, even if I never wanted to do it again, ever.
59-year old retired principal, Patrick Hayden, had entered the lake with the same intentions I had—to have fun, finish the race and prove something—by doing a relay race with his two sons. But at 8:55 a.m. a kayaker patrolling the race course flagged down a nearby National Park ranger patrol boat. They found Patrick unresponsive, did CPR and paged the emergency vehicle I had heard. The hospital pronounced Patrick dead at 9:30 a.m. while I was riding up the dam hill, so happy to be a survivor. Patrick's name is added to my mental memorial: the names of those who forged their mental and physical metal in the furnace of existence, who push against the limits of comfort and complacency, trying to go and be longer, wider and higher than they have ever been before.
Nanette Rasband Hilton's work has been distributed internationally in print publications such as The Decorative Painter, Gardening, and the Artist's Journal as well as on textiles, calendars and home and holiday decor. She holds a degree in Writing and considers her family her greatest achievement. She currently lives in the splendorous Mojave Desert.