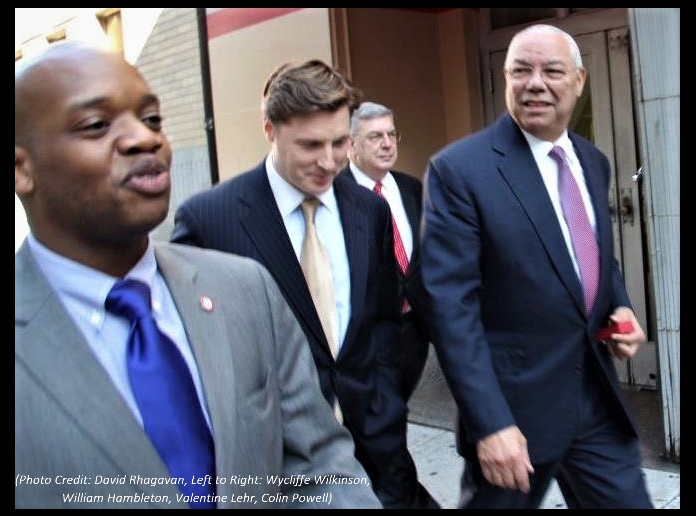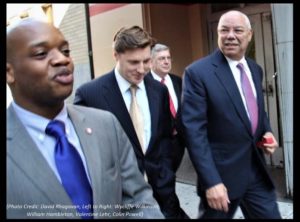 Years ago, as Chief Development Officer of the historic La Salle Academy of the Lower East Side of Manhattan, I had the honor of coordinating the visit of General Colin Powell to address the student body. This came as a result of a five-year letter-writing campaign of Art Teacher, Mrs. Ann Straub, who refused to take "no" for an answer.
As General Powell stepped from his car when he arrived at LSA, he looked around, and upon identifying the responsible party he yelled, "ANNE: STOP WRITING ME!!" There was a slight beat as everyone seemed unsure whether he was serious or making a joke or both. Then guffaws broke out all around.
Like many who had the pleasure of meeting General Powell, we were completely floored by the humility of a man who had led armies of soldiers to war, after having served at almost every level of said army before rising to the rank of general. He would later become the youngest and first African American Chairman of the Joint Chiefs of Staff, and later the first African American Secretary of State of the United States of America.
He was one of them, he told the student body. The son of Jamaican immigrants, General Powell himself was born in the South Bronx, like many in attendance. He told them of his difficulties academically and how he refused to allow that to prevent him from succeeding in life. He shared that although he majored in geology, "As a solid C-student" he did not see becoming a geologist as a solid career path for himself. This drove him to the ROTC program which later revealed itself as his true calling.
He spoke to the students of inspiration and determination; how to find the seeds of these sentiments in oneself and how to cultivate and refine them as rocket fuel to take them into the future. He stayed an extra 30 minutes (he was going to be on CNN later that day!), yet he stayed as long as he could to take questions from the students and pictures with them.
One student was so overwhelmed that when he got to the microphone, he froze and couldn't speak. General Powell helped him, of course, and the student was able to eventually put together the beginnings of a question that General Powell answered.
Later, as we walked General Powell to his car I teased him, telling him that he had scarred the young man for life against public speaking; and we both laughed at the joke. As I write this now, I can't help but believe that that young man is likely doing something great with his life, thanks to the perseverance of his art teacher and the inspiration of a great man.
Rest In Peace, General.
Wycliffe Wilkinson is President & Founder of We've Got Rhythm, a music education non-profit. He owns and operates a Financial Advisory Practice with MassMutual. He hosts the podcast, Proper Modulation as "Kurimanju" with CheapyD. A former research scientist with Merck, Wilkinson is also an artist and a youth advocate who believes that equality of opportunity is the birthright of every child. Instagram/Twitter: @iAmKurimanju, wevegotrhythm.org
Photo Credit: David Rhavagan