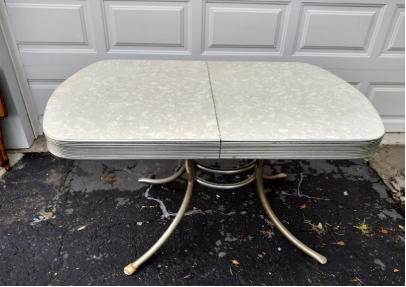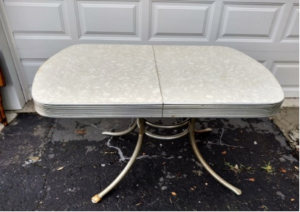 1963. The Bronx. The kitchen smelled of matzo brei and cheese blintzes from my Nana's cooking. I sat cross-legged on the white Formica kitchen table in the dark; my skinny 10-year-old body hunched over. Over forty years later, I still sit cross-legged like that.
If I looked down from the top of that kitchen table at the black and white checked linoleum floor, I would see scads of brown cockroaches and black beetle water bugs darting every which way across our kitchen, dimly lit by the glass butterfly night light plugged into the wall near the two-basin kitchen sink. Reaching across the open space I'd grab the black rotary telephone from the wood stand next to the rusted dumbwaiter and pull the phone set to where I sat on the tabletop in the center of the kitchen. The braided frayed phone cord uncurled across the chasm.
I'd dial up my best friend Sherry, careful to put my finger in the holes and turn the rotary slowly so the sound would not be heard beyond the open kitchen entry. Once connected, Sherry would say:
"Linda?"
"That's my name. Don't wear it out," I'd tease. We'd giggle.
Sherry would be under her blanket in bed with her pink Princess phone. We'd whisper about the boys in our third-grade class, the one each of us liked best, critiquing what they wore that day, how their hair was combed. We'd re-count stories about our teacher, Miss Troskin with her bleached yellow hair, painted lips and loose fleshy eye bags. We called her the "trashcan." I had no idea at the time that the "trashcan" would later become my teacher again in 7th grade when I got to Junior High, and that one day she'd hear me talking smack about her in an Alexander's department store elevator on Fordham Road. I was in for some bad luck.
On top of that table in my Nana's bug-infested kitchen I felt like I was living in a dirty trashcan. There were mushrooms growing up through the white tile floor by the toilet in the bathroom, the grouting chipped and flaky. I'd fantasize about moving to the Grand Concourse, the middle-class Bronx version of Park Ave, a boulevard, just a short block uphill from where I lived, where my friends Sherry and Rebecca sat on their beautiful tapestried sofas, watched color TV's, enjoyed the privacy of their own bedroom and sunk their toes in plush wall to wall carpeting. You had to press a buzzer to get into their buildings and there was an intercom where they could talk to you, then buzz you to enter. My friends, not even Sherry, knew about my living conditions because I never invited them over. It was my secret.
Sometimes, if they'd suggest coming over to my apartment, I'd make excuses saying my brother was sick or that it was my Nana's cleaning day or that my mom was having an Avon house event and no kids were allowed. I would develop a lot of secrets, tell lies. Cover up my poverty.
For hours each night I'd whisper on the phone with Sherry in the dark where I could hear my Nana's loud snores come from the shabby living room hide-a-bed sofa where she slept, her grunts and growls traveling down the long, narrow corridor to where I sat on top of the chipped oval kitchen table. My mother, younger brother and sister would be fast asleep in the only bedroom in our small apartment, the same room I slept in. Three females in one lumpy bed and my brother in his corner cot sucking his thumb. We lived in Apartment 1A. It was the first door you saw once you walked up the white stone stairs to the courtyard and entered the brown brick building.
We were latchkey kids and on our own before and after school. Nana worked as a milliner in the textile district of lower Manhattan where she assembled fancy hats. Mom had temp jobs as a teletypist until she'd complain about her desk space or would talk back to one of her managers, or maybe one or more co-workers noticed her compulsive tendencies which were tough to keep hidden, like entering and re-entering a room ten times in one minute. Any one of her obtuse behaviors would eventually get her fired. But she'd sooner or later land another temp job because she typed well over a hundred words a minute and would eliminate the competition with her speed and accuracy on pre-employment tests.
When she'd get home from work she'd make us take a family walk, maybe six or seven blocks on the Grand Concourse and then back to our building, down the hill on Tudor Place. The three of us were instructed to walk single file in a line, me in front as the oldest, my brother behind me and my younger sister in the back.
Mom would stand off to the side and watch us: "Linda, walk a little faster. Straighten up. No slump. You're the leader. Ronnie, line up with your big sister. Pamela, you're trailing," she'd say, critiquing from the sidelines.
We weren't permitted to step on any cracks, lines or seams between paving stones and if we made a mistake, we'd have to walk the whole block again without an error. People would stare. Many would smile, seeming to think Mom was playing some sort of game with her three young children.
Nana didn't join us on these nightly walks.
"Get your jackets on," Mom would command.
"Gloria, don't make them do that again," Nana would intervene; "They have homework to do. Why put them through that nonsense?" she'd shout out in protest as my mother rushed us out of the apartment.
But when there was an opportunity, when Mom wasn't around, Nana would make excuses for her antics; "Your mother, she has problems. She's had them since she was in the Navy. Now she's left with three kids to raise. You'll understand when you're older," she'd say, shaking her head while my sister, brother and I would be on our knees on chairs around the kitchen table where Nana let us take turns table finger-licking chocolate chip cookie dough from a metal bowl. The kitchen table became my safe place.
The secrets I would keep from my friends through the years also included my mother's obsessive tendencies. But the one thing I would brag about to everyone was my Nana's delicious cooking.
Linda S. Gunther is the author of six suspense novels: Ten Steps From The Hotel Inglaterra, Endangered Witness, Lost In The Wake, Finding Sandy Stonemeyer, Dream Beach and Death Is A Great Disguiser. Her essays and short stories have also been featured in a variety of literary publications.