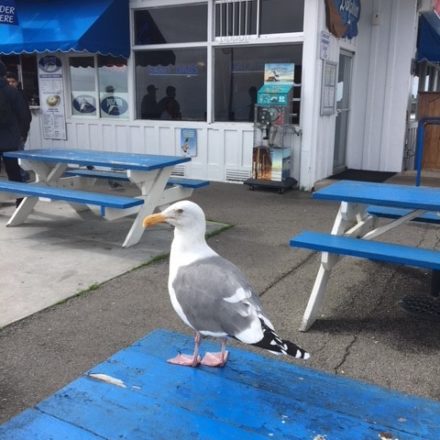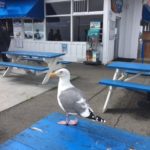 There's one place in town I like the most for breakfast. It's called The Dolphin, located at the very far end of the Santa Cruz Wharf, only a fifteen-minute drive from my house in Aptos. The Dolphin is an old-fashioned traditional café, surrounded by glass windows with views out to the ocean and of the lighthouse in the distance. I heard that many years ago it was actually a bait shop for fisherman and then transformed to a small diner in 1963.  I try to avoid high cholesterol dishes but the Eggs Benedict is so mouth-watering at The Dolphin that I can't resist ordering it.
The second reason I love dining there is the herd of the sea lions that bark insanely outside, just below the restaurant, their husky glistening gray bodies sprawled out on the wharf's wood rafters. Periodically they flop from the rafters into the ocean water for a quick dunk and then hop up again for a fight with another sea lion, and joust for a sunny space. These creatures are loud and dramatic in their frolic and banter with each other.  Usually after I park my car close to The Dolphin Restaurant's entrance I spend a few minutes gazing down at the sea lions, and occasionally I bark back, imitating them but only if nobody else is around me. And at the end of the wharf early in the morning, that's often the case.
For the past ten years, about two or three times a month I meet either a friend or fellow writer at The Dolphin for breakfast, arrange to have a bite with people I don't see that often because they live an hour or more away over the mountain in Silicon Valley and I live at the beach.
When I suggest to someone that we meet on the Santa Cruz Wharf at my favorite little cafe called The Dolphin, they are likely unable to resist the allure of ocean, the scrumptious Eggs Benedict, the surf and sailboat scenery from the restaurant's picture windows, all of which I describe in great detail. I basically seduce them into coming over the summit of the mountain, and down the curvy road over to the beautiful beach.   If you've been to The Dolphin once, you always come back again if you can. It's the perfect place for catching up or having an intimate chat.
But the premiere reason I love breakfast at The Dolphin is attributed to Rosie, my favorite server and honestly one of my all-time favorite people.  Full of life, the ultimate guru in customer care, with the most welcoming smile I've ever encountered, I found her positive energy contagious. Her wavy brown hair framed her face, and finished with a page boy curl just below her chin. Rosie's cheeks were indeed rosy with a hint of pink blush, and her pale pink lipstick was always pristinely applied. She wore a stylish black shirt and black pants, topped with a starched white apron over her clothes, the informal uniform of the servers who worked at The Dolphin. She was a woman likely in her mid-fifties, medium weight and height. But as soon as Rosie spoke even just a few words, she became beautiful, her dark eyes so full of intensity and sincerity. Effervescent is the best word that comes to mind to describe her.
I'd open the glass entry door to The Dolphin and a little bell would ring. Rosie would instantly appear from somewhere in the back. She'd put down her coffee pot or whatever was in her hand, rush over to greet me with a hug or elbow bump during the COVID era, and lead me to a booth by the window with the best ocean view available. I'd intentionally arrive at least thirty minutes before I'd be scheduled to meet my friend so Rosie and I could have time to visit. Even though English was Rosie's second language she'd chatter away at a fast clip telling me about her family, or about her crappy commute over the winding highway 129 from Gilroy to Santa Cruz, or give me her opinion on the latest news of the day. And then she'd always ask me how my life was going, what was happening with me.
It was on weekday mornings that I'd go there for breakfast so the place wasn't too crowded and I knew that would mean some quality time with Rosie.
After Rosie learned that I was a writer, she'd often inquire about the latest story I was working on, want to know the setting, the overall plot I had in mind and what the main characters were like. She'd attend to other customers but would wander back to my booth with more coffee and more chat. The friends who met me at The Dolphin were also delighted with Rosie's friendly demeanor and attentiveness.
About a year ago, I gifted Rosie a copy of my first novel titled Ten Steps From The Hotel Inglaterra, a woman's romantic adventure in Havana Cuba, lightly based on my own solo journey there in the late 90's. I told her how writing helped me grieve my sister's death. On my next visit to The Dolphin, two weeks after I gave Rosie my book, she reported that she had read the novel twice from cover to cover, that she couldn't put it down. Her enthusiastic response to Charlotte Sweeney, my lead character, truly touched my heart. She lit up talking about her favorite scenes in the book, and what she was hoping would happen at the end, and how she admired the choices I made as a writer.
"How did you ever write that story?" she asked. "How? I can't imagine doing that."
"I have no idea," I said, shaking my head, with a smile from ear to ear.
"My dream is to write a book about my life," she said.
A few months later, I was at The Dolphin waiting for a friend to show up, when Rosie shared how she was actually beginning to document her own story, sort of a memoir about how she came to live in the U.S., the hardships she had as a young girl in Mexico, the family she left behind, how that saddened her but that her writing was also about the wonderful things she gained from taking the risk to come to California.
She expressed a strong desire for me to read her work and then maybe talk it over, maybe help her with how to approach putting it together. But she knew that wouldn't work as her story was written in Spanish because it was so much easier for her to express thoughts and feelings in her native language. I suggested that she have someone translate a chapter or two into English, that I'd love to read it, and help her.
"Yes, great idea" she said," I'm going to definitely do that. Maybe next week, I'll ask my cousin if she can help translate the first part. I'd love your help," she said.
But a few months passed, lots of great chit-chat about writing, how she was writing every week, really wanted me to share her story but she didn't give me anything to read. She had a busy life. She never spoke of children or husband and didn't wear a wedding ring. Thinking back on it, I wish I'd have encouraged her to give me the piece in Spanish. I'd have found someone to translate it. But I didn't.
A few weeks ago, I planned to meet my friend Joe, another writer, at The Dolphin. I was early, as usual. When I entered the restaurant, it was empty.  No customers. I sat down at a booth. In my hand, I had a copy of my latest novel, Death Is A Great Disguiser, set locally in Santa Cruz and partly in the Yucatan in Mexico. I told Rosie awhile back that I would give her a copy but I kept forgetting it at home. Each time I could see in her eyes that she was disappointed. But that day I had it with me and had written a special note on the front page of the book.
               Dear Rosie,
          I can't wait to read your story!
My signature was scrawled below the message.
A young girl came out from the kitchen area at the back of the restaurant and approached my table. She was chewing gum. She had short dark hair, brown eyes and kind of resembled a twenty-two-year-old version of Rosie but without that special light in her eyes or the bounce in her step.
"You want coffee?" she asked.
"Yes, please," I said.
"You got someone else joining you?"
"Yes," I said, "one more but he might be a little late."
She placed the laminated menu on the table top in front of me.
The girl nodded and left to the kitchen. It was a Wednesday morning. I knew Rosie worked Tuesday through Sunday. Maybe she was on vacation that week, I thought. I felt disappointed not to see her since I had the book with me.  Maybe I'd just leave it for her with the young server.
The girl returned, coffee pot in hand. "
"Is Rosie not working today?" I asked. The girl stopped chomping on her gum.
"I guess you don't know," she said in a matter-of-fact tone. "But Rosie's gone."
"Oh, she moved?" I asked. "I didn't know that."
She put the coffee pot down on my table, took a deep breath, and stared out the window to the ocean. She looked back at me. I noticed her lovely dark eyes and very long eyelashes.
"No," she said. "Rosie died two weeks ago. On her way home from here, on Highway 129.
The girl slowly shook her head. "Head-on collision."
I felt light-headed, dazed. I placed my hand down on the blue vinyl seat, on the book I was planning to give Rosie, my fingertips gliding across its smooth cover.  I looked down at the coffee in my cup, how still it was.
"Died right there," the young girl whispered. "Didn't even make it to the hospital."
A phone rang somewhere in the back of the restaurant.
"Sorry, I need to get that," she said.
I nodded. She picked up the coffee pot from the table and walked away.
A sea gull perched outside the picture window on the wood wharf railing. It tilted its head from side to side a few times, gave me a long look and then flew away.
My thoughts swam with images of Rosie, her smile, the animated way she moved her hands during our chats, her hearty laugh, the sparkle in her eyes when she talked about her favorite scene in my first novel, her excitement about writing her memoir.
And then it clicked. I would never let an opportunity to help someone I care about slip through my fingers again.
Linda S. Gunther is the author of six suspense novels: Ten Steps From The Hotel Inglaterra, Endangered Witness, Lost In The Wake, Finding Sandy Stonemeyer, Dream Beach and Death Is A Great Disguiser. Her essays, poetry and short stories have also been featured in a variety of literary publications. www.lindasgunther.com